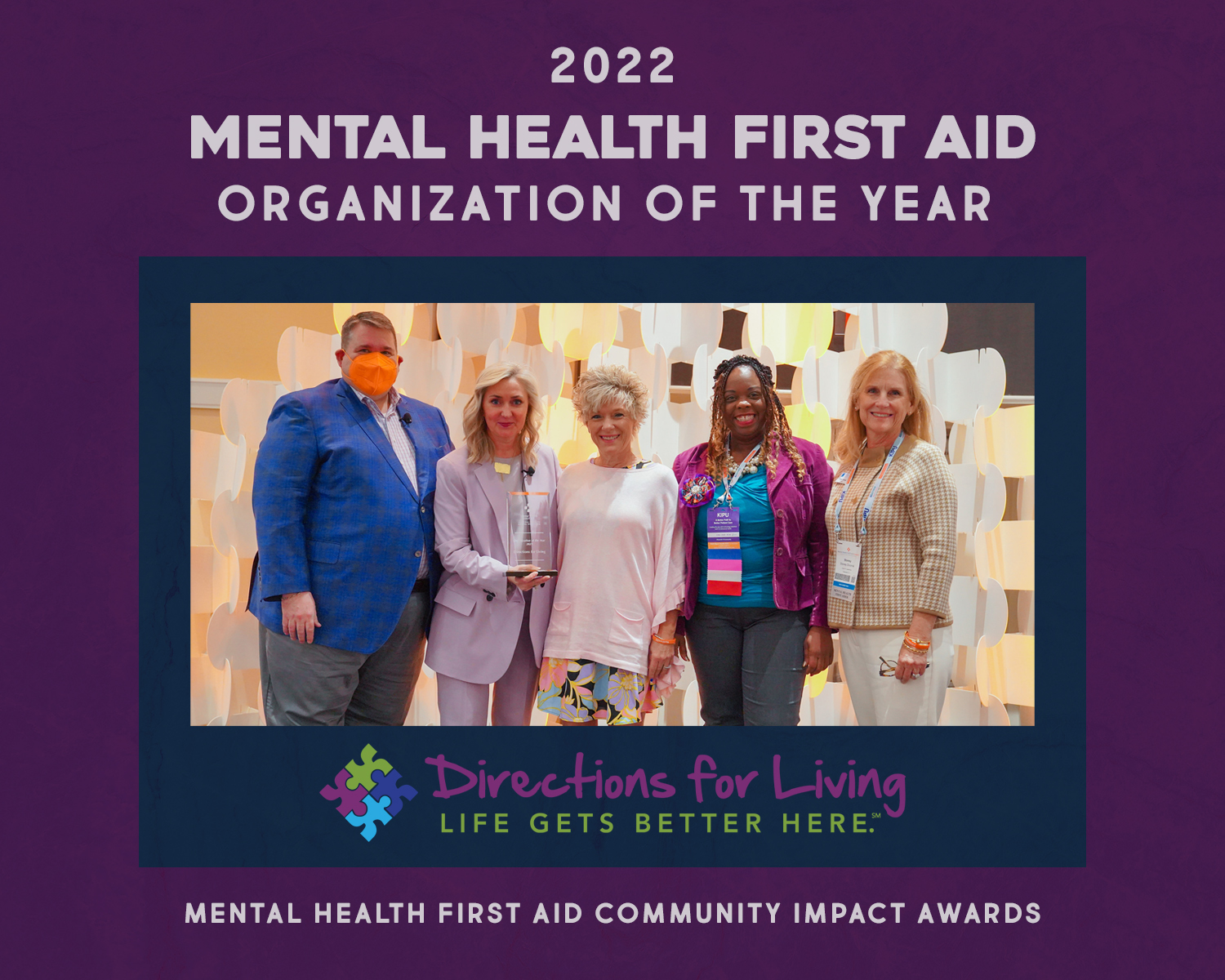 Mental Health First Aid Organization of the Year
In a ceremony during the Mental Health First Aid (MHFA) Summit on April 10, the National Council for Mental Wellbeing recognized Directions for Living with the MHFA Organization of the Year award for its work advancing MHFA and its life-saving curriculum.
MHFA is a groundbreaking skills-based course that teaches people how to identify, understand and respond to signs and symptoms of mental health or substance use challenges. Similar to physical First Aid and CPR, MHFA helps you assist someone experiencing a crisis until professional assistance is obtained or the crisis is resolved.
The Organization of the Year award recognizes an organization with certified Adult, Youth and/or Teen Instructors that is implementing creative solutions to expand MHFA within and outside of the organization. Organizations throughout the United States were considered before Directions for Living was chosen as the sole winner of this prestigious award.
"Directions for Living has continued to adapt and find new ways to bring Mental Health First Aid to its community," said Deanna Roepke, the National Council's vice president and general manager for MHFA. "The work they do is helping more people to be the difference for those experiencing mental health and substance use challenges."
An early adopter of Blended MHFA, Directions for Living trained 2,500 First Aiders over 2020 and 2021. Directions for Living invested in training Instructors to expand and sustain its program, became an approved teen MHFA site and soon will have certified Teen MHFA Instructors. Directions for Living regularly partners with police departments and first responders, advocates within the public safety community, teaches public safety supplement courses, and has taken the One Mind Pledge to reinforce its commitment to the public safety community.
"I am so honored that Directions for Living's hard work and passion for the Mental Health First Aid program is being recognized at the national level," said April Lott, Directions for Living's President & CEO. "I have seen MHFA save countless lives firsthand, right here in Tampa Bay. This work is vital and I am excited to grow our impact even more this year."
To learn more about Mental Health First Aid, or to register to become certified via the 8-hour course, please visit www.mentalhealthfirstaidpinellas.org.